Elevate your massage practice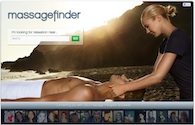 At MassageFinder, our goal is simple: To bring you more massage clients. We connect you with real people in your area who are seeking therapeutic bodywork.
We believe that every massage is unique, and it's our passion to refer you clients who will appreciate and benefit from your own brand of therapy.
Take a look around and we think you'll agree that MassageFinder is a world-class website. So what are you waiting for? Get your own MassageFinder listing — and start getting more clients today!
Bronze
Gold
Platinum
For part-timers who need a boost
For masseurs ready to take their business to the next level
For top pros who want to make serious money
Number of ads
1
2
Placement in search results
Bottom tier
Middle tier
Top tier
Number of photos
4
6
Available Now feature
60 minutes at a time
60 minutes at a time
minutes at a time
Travel schedule
trip/month
trips/month
Chance to be in the weekly newsletter

(if enough room)

✔

✔

In rotation on homepage

x

x

✔

Weekly specials

x

✔

✔

Cancel anytime

✔

✔

✔

$39.99

/ month

(renews automatically each month until you cancel)

$69.99

/ month

(renews automatically each month until you cancel)

$374.99

/ month

(renews automatically each month until you cancel)
We accept Visa, Mastercard, Discover & American Express

We only accept cards issued in your own name

You can cancel future automated billing at any time with the click of a button